5 Ways to Use Your Dry Bag While Self-Quarantining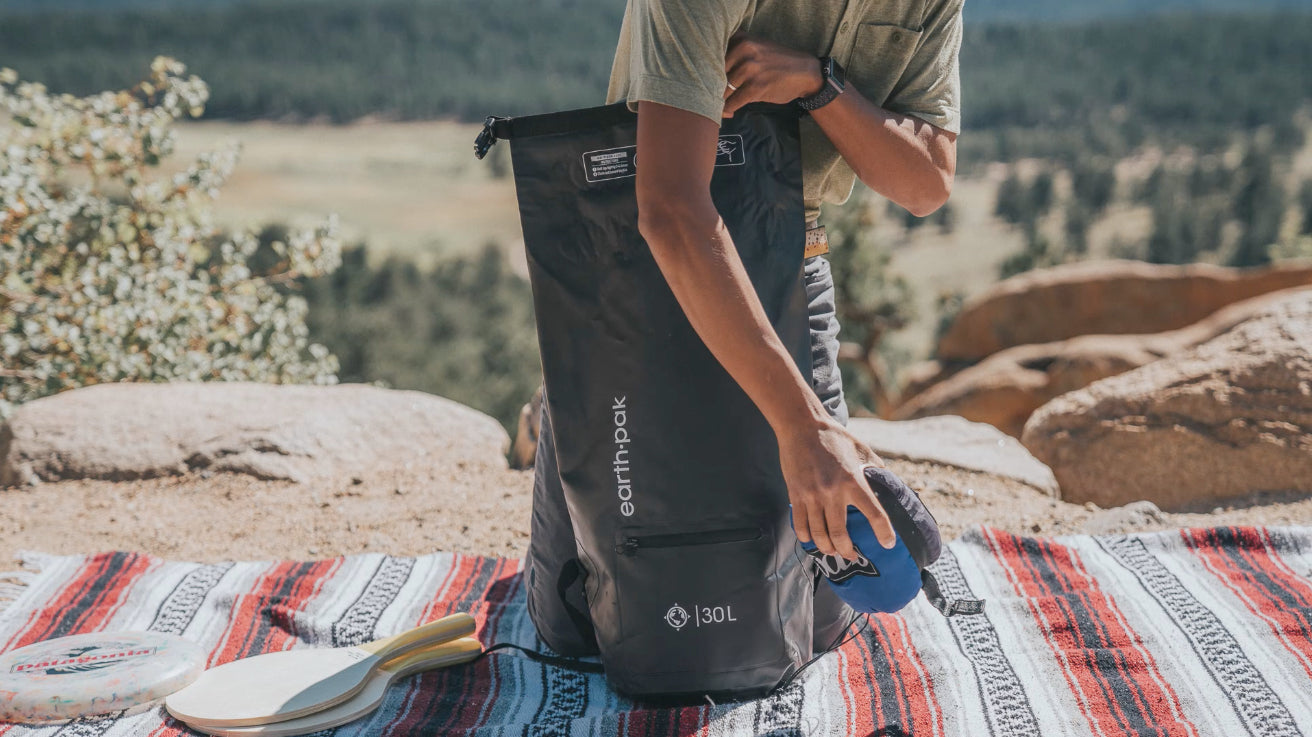 Editor's Note: If you told us we'd be writing a blog post like this in 2020, we wouldn't believe it. There is no doubt that times are tough right now for everyone, and we are keeping our entire outdoor community in our hearts. Everyone, including us, are being impacted by COVID-19. While this blog post shares suggestions on how to find creative ways to use your dry bag while social distancing and self-quarantining, we in no way claim to be experts when it comes to COVID-19. We encourage all of you to turn to reliable resources such as the CDC or official government websites for your state and county to better understand the current status of COVID-19 in your area, as well as best practices for social distancing and flattening the curve. We are thinking of everyone who has been impacted by COVID-19 and together, will overcome this. We can't wait to see your adventures when the time is right.
Now that COVID-19 is spreading among communities in the United States and other countries around the world, many of us are self-quarantining or following "shelter-in-place" orders mandated by our governors. While staying at home is absolutely necessary during this time, it can make us a bit restless, so our team put together some ideas of how they are using their earth⋅pak dry bags to help pass the time during these difficult times.
Workout/Weight
Missing the gym while being indoors? Unfortunately, with most gyms and fitness studios closed (and with good reason), we're all missing that bit of sweat that we usually get from our normal routines. A great idea is turn your dry bag into a kettlebell to get some lifts in while at home! Simply add sand, water, or anything inside your dry bag to add bulk and weight to it. Since you already know what size your dry bag is (10L and 20L bags are perfect for weights), you can convert liters into the weight that you're looking for.
Electronic/Cable Bag
Since your dry bag obviously keeps items dry, why not use it during this off-season for storing electronics or cables, to ensure that it stays protected from dust or moisture? The durable material of dry bags helps prevent things from poking in, and it's also convenient to keep all your cables stored in one spot so you'll know where it is! Not to mention, you're keeping all of your electronics protected from any wet conditions.
Laundry Bag
For those who do not have laundry services at home, consider using your dry ag to bring your laundry to the laundromat. Our 40L and 55L sizes are perfect for storing dirty laundry and offer easy carry with backpack straps. Throw your dirty laundry in, roll up your bag, and keep odors tucked away until you can wash your clothes
Emergency Kit
This idea actually came from a lot of you—our fans! We're not telling you guys to freak out and buy in bulk. But, for those of you who are stocking up on supplies and creating emergency kits at the moment, consider using your dry bag to store everything in it. We recommend any dry bag larger than 35L—this includes our Summit Series, Voyager Series, or Original Dry Bag Backpacks. You can easily tuck any first aid kits, medicine, paper goods, and more. (Note: We are not telling you to hoard hand sanitizers or toilet paper, we're simply just offering a suggestion for storing items). It's always smart to keep an emergency kit for times that you may need it!
Grocery/To-Go Bag
With most restaurants closed, the chances are you're probably grabbing to-go orders or making more stops to the grocery store as you're used to. Use your dry bag to stock up on bulk items that you pick up from the store. It'll make carrying much easier!
While our team is currently practicing California's mandate to practice shelter-in-place, we're all available online and are doing our best to respond to any questions within 24 hours. In addition, all items purchased on our website are still shipping out during this time. Stay safe everyone, and we hope to see all your adventures soon!
---