Adventurer Q&A: Trekking Through Nepal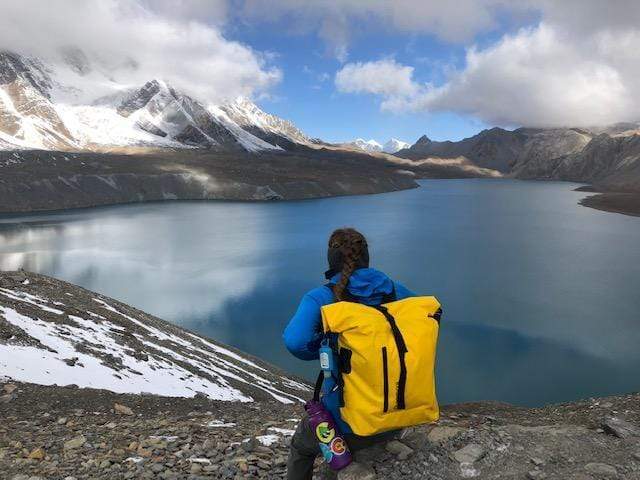 Skip the popular tourist spots and consider visiting a destination that will humble your soul. Where is this magical place? Visit Nepal, a country brimming with new cultural findings, kind locals, and endless areas for trekking. 
After following Kelly Henris' adventures on Instagram (also known as @kmh.adventures), you're definitely going to want to "elevate" your travel experience and add Nepal to your bucket list. Here's our latest Q&A with this badass earth pak adventurer! 
Q: Why did you travel to Nepal?
Adventure is my drug of choice and adventuring in the mountains tops that bucket list! I love to experience culture and explore and the Himalayas have always been a dream of mine!
Q: Describe your trip! How much time did you spend there, what was the journey like, and where did you stay?

I was in Nepal a total of one month. In this time the big part of the trip was a 14-day trekking trip called the Annapurna Circuit through the Himalayas. I and one friend started in Besisahar and trekked 200 miles in 2 weeks! The trip started around 1000ft of elevation and capped off at 17,800 feet! Each day brought new challenges while we trekked up and down the mountains and took on the challenge of acclimatization. The views were spectacular and I can now say I have trekked over the worlds HIGHEST PASS and to the worlds HIGHEST lake! Along the way, on the trek, we spent the evenings in tea huts owned by kind Nepali people. They would give us a room with cots, restrooms (occasionally with warm water) and meals. Dal Bhat is the main source of nutrition on the trek and consists of a lentil soup, curry, and rice. The people were so wonderful and kind. They have near nothing yet would give you anything! To say WOW about this trek is an understatement!

We also did some other exploring before and after the trek through Kathmandu and Pokhara. Pokhara had a beautiful lake to enjoy and lots of experiences such as paragliding.
Q: What did you like most about Nepal & how would you describe it as a travel destination?

My answer to the best part of travel (including Nepal) is always the people and culture you experience along the way. It is humbling and you can learn so much about the way you choose to live your life, priorities, and how to treat others. Aside from this, the Himalaya Mountains are truly spectacular in all their beauty! As a travel destination though you do need to be prepared for a true 3rd world country and keep an open mind.


Q: What type of travelers would you recommend to visit Nepal?

I would recommend anyone with an open mind and true sense of adventure to go to Nepal! There are numerous treks to explore and cultural experiences to take in. I also always love trying the food of a country and truly immersing myself in the lifestyle.


Q: What did you use your earth pak bag for in Nepal?

I used the Summit 35L Dry Bag Backpack every single day as a daypack! Along the trek, there are rarely stores and NO ATMs. There is no credit card usage out there. The fear of rain coming in and all my personal belongings getting wet and ending with no way to pay for lodging and food was eased by keeping belongings in my earth pak! I also used it to trek to the beautiful lakes we explored and when going over river crossings/waterfalls!
Follow more of Kelly's adventures on her Instagram @kmh.adventures
---