Descending Down Cassidy Arch, Utah:
"Canyons tend to destroy things."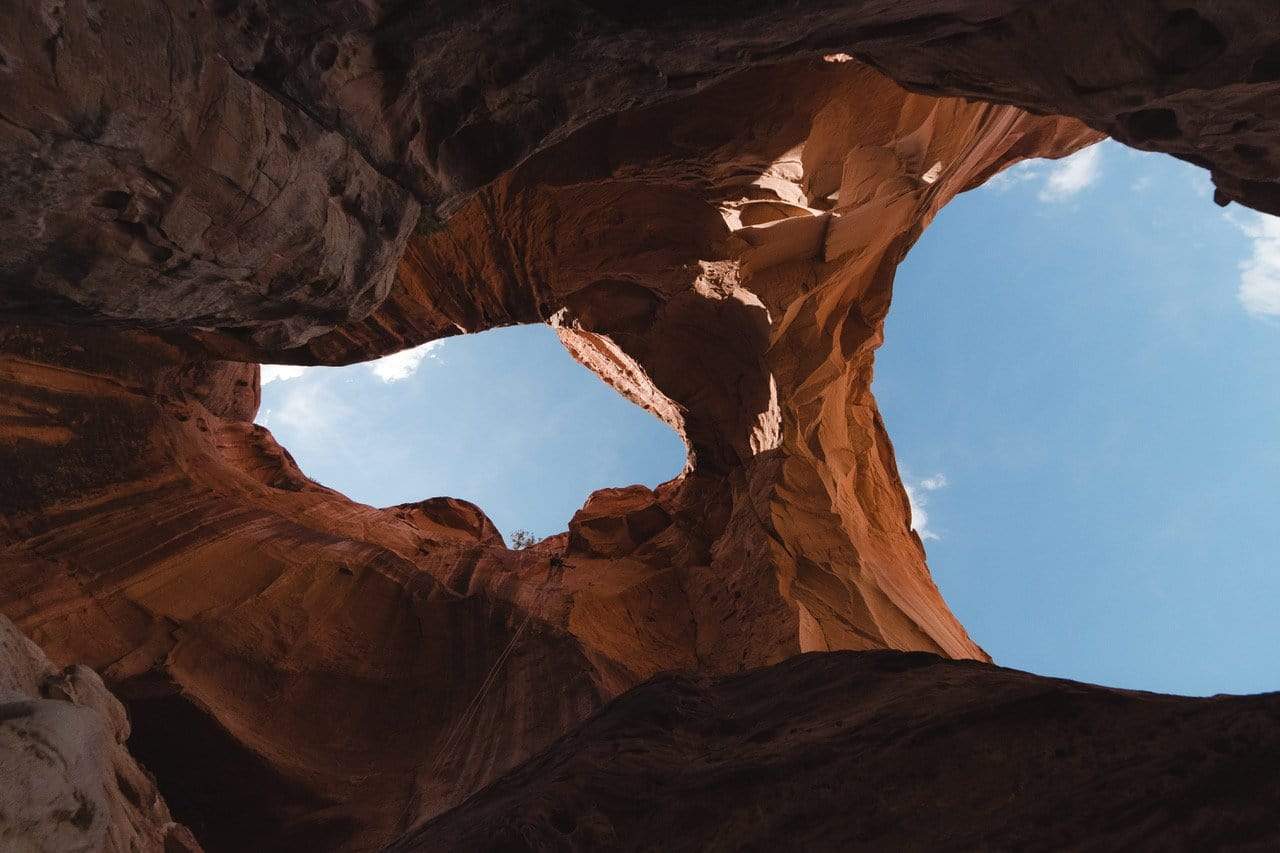 Utah's one of those places that you can visit without a plan, and you'll be completely fine. Pack your bags, take a road trip, and head to one of Utah's mesmerizing canyonlands with nothing but food and water – and we promise you'll be good. 
For photographer Mitch McKee, this was exactly the case for him this past week, where he spent this time roaming around Utah, Arizona, Nevada, and California. According to McKee, "This trip had no prior itinerary and the spontaneity of seeing where the road would take us set the tone for the week's adventures."
Joining him on this trip was his brother, who works as a field guide in Wilderness Therapy, a line of work that uses the outdoors as a way to help people who struggle with substance abuse. Sharing the same passion for the outdoors, Mitch's brother introduced him to the world of canyoneering – and after seeing the photos he was able to capture, we're glad he did.
One of their biggest canyons conquered was Cassidy Arch in Capitol Reef National Park, Utah. He highly recommends this place for hiking and photography, and here at Earth Pak we're also relieved to see more Utah pics beyond Zion National Park.
According to Mitch, the canyon involved five technical rappels with the highest one being just shy of 150 feet free-hanging (which means your feet aren't touching the canyon wall as you descend). It was probably the most diverse canyon he was able to conquer this past week, and his brother warned him before they left the car that "Canyons tend to destroy things."
During the second rappel of Cassidy Arch Canyon, Mitch found himself descending into the mouth of a huge alcove (the cave in the images), and his gear (including his 55L Earth Pak backpack) took a beating as it was scraped against the canyon walls.
After everything had settled, he was surprised to find that his gear was all still intact – and there wasn't a rip or hole in anything, including his bag. His gear survived not only Cassidy Arch but the entire week's worth of spontaneous adventures.
There's two things you should take away Mitch's photos and story: 1) There's more to Utah beyond Zion and 2) More often than we think, not having a plan is the way to go.
According to Mitch, "This past week I was able to experience the Wild West at its wildest as well as enjoy some much needed time with my brother" – and usually, that's all you really need from a trip. 
For more of Mitch McKee's work, visit his Instagram @mitch.mckee and his website.
---